What's new?
     That depends on your perspective. If you're a new gardener, everything is. If you've been around the garden a few times, it takes more to make you say "Oh, I want that!" After a few decades in the industry, it's hard for me to get excited about boxwood and yaupons any more. Some of these plants may have been around a while, but they still make me think "Wow" and I wanted to share them with you.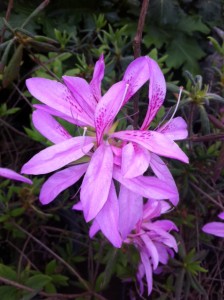 This is Koromo Shikibu, a FRAGRANT, deciduous azalea. It blooms on bare wood in the spring. I'm kind of a sucker for plants that bloom when they are naked.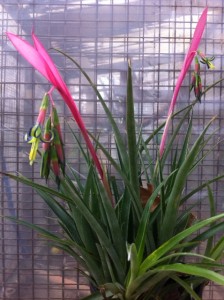 This is Bilbergia nutans 'Queens Tears'. As a member of the bromeliad family, Bilgergia will make "pups" and makes a stunning hanging basket (use a wire basket and moss…the pups will grow out the sides and in a couple of years it will be a solid ball of plants and flowers).  Plant in a shady spot and enjoy the fireworkish (it might be a word) display of flowers every spring. Since it's a bromeliad, the flowers last a long time.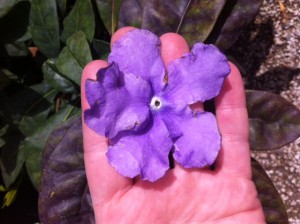 …ok, that's my average sized hand holding a flower from Brunfelsia magnifica, a giant form of "Yesterday, Today and Tomorrow" (aka YTT). The regular YTT has flowers about the size of a half-dollar. Magnifica has huge, fragrant flowers in the spring and fall, plus will throw flowers out at random, between.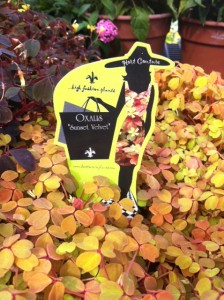 If you haven't heard of Hort Couture, Google it! https://www.hortcoutureplants.com/ Way cool plants (just face it, some of their plants won't do well here). This little Oxalis, 'Sunset Velvet',   is just one plant from their line up. The newest leaves are orange(ish) and change to shades of yellow and apricot, making it an excellent contrast plant in the garden.